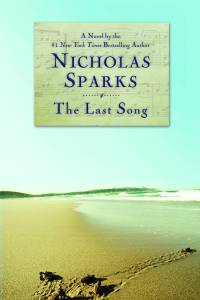 Book Review #1
The Last Song by Nickolas Sparks
Rating: Three stars (refer to the rating system on the right)
I recently saw a trailer for the movie in the theaters and thought that it would be a good read. I just finished reading the book and I have to say I'm very pleased. The beginning was a little slow, but it gets a lot better. The book is centered around 17 year old Ronnie who unwillingly spends her summer with her dad in Wrightsville Beach, North Carolina. Ronnie having her parents divorced three years earlier is still angry at her father. I'm not going to lie at first I thought Ronnie's characte...more
Summary:
The book is centered around 17 year old Ronnie who unwillingly spends her summer with her dad in Wilmington, North Carolina. Ronnie having her parents divorced three years earlier is still angry at her father. Ronnie starts of the summer in Wilmington, barely speaking to her father and spending her days as far away from him as possible. Things change for Ronnie, she meets some new people who might not be the best for her, and meets someone she might just be in love with.
I recently saw a trailer for the movie in the theaters and thought that it would be a good read. I just finished reading the book and I have to say I'm very pleased. The beginning was a little slow, but it gets a lot better.
I'm not going to lie at first I thought Ronnie's character was sort of annoying- I got a little frustrated at how she treated her dad, but that changed not to far into the book. I loved how Ronnie almost became a whole other person, for the better. I liked how the book alternated views between the characters, but I found some of Steven's (the dads) part boring at first. I was surprised at the ending of the book (not the very ending), I wasn't really expecting it. I have to admit I teared up and got very emotional. The last thing I absolutely loved was the epilogue of the book, I love happy endings! Overall, I enjoyed the book and I can't wait for the movie to come out! I would recommend the book to teenage girls or even adults who like a good romance/ somewhat light novel.